Learn world of warcraft bidding practices in this article that will help you win bids more frequently.

Here are the four categories you will see when checking how much time there is left on an auction:


Short – Less than 30 minutes. *
Medium – Between 30 minutes and 2 hours.
Long – Between 2 hours and 12 hours.
Very Long – Between 12 hours and 48 hours.
*Bids placed during the Short time can reset the time left on an item to Medium time left, probably to prevent last minute bidding wars.
So how do you use this information to time your bids? Well first you identify the times when your bid will see the least visibility to avoid getting outbid. Here's a chart of times during the week when your bid will be safest.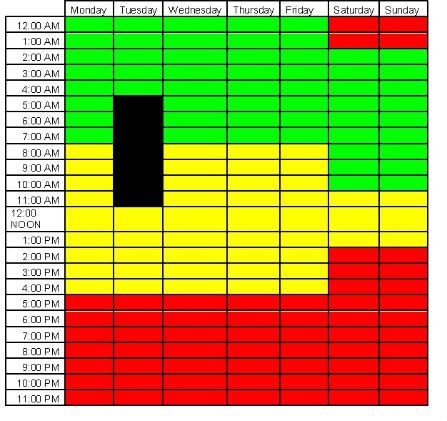 Looking at the above chart you will see that the green areas are times when your bids are safest, yellow is moderate, and red is dangerous for your bids. The black area is server maintenance but bids can still end but you obviously can't be outbid. Keep in mind that this is server time, not necessarily your local time.
To use this chart, first check to see what type of bid you want to place. For an example let's say it is 7:00 AM on a Monday morning and your bid is on Medium. You then add 30 minutes to your time to get 7:30 AM as the fastest your auction will end and plus 2 hours (9:00 AM) as the latest it will end. 7:30 AM on Monday falls in the green category and 9:00 AM falls in the yellow category. This would be an excellent item to bid on.
Let's do a more complex scenario. Two trains leave the station at 12:00 Noon. One train heads to dallas at 92 miles an hour and the other train heads to seattle at 60 miles per hour. If both trains want to reach their destinations at the same time, how man minutes must the train headed for dallas wait at the pitstop to ensure that both trains finish their routes at the same time?
JUST KIDDING.
Alright, you see a shiny item with an awesome low bid price at 10:00 PM on Monday night. You look at the time remaining and it says Long. So you add 2 hours and 12 hours getting 12:00 Midnight to 10:00 A.M. as your range of end times. This means that your bid is going to be extremely vulnerable for two hours, green for five, and guaranteed if it lasts after that because it will end during maintenance. The way I look at these situations is I always assume that the auction will take the full amount of time. Then I break it down into percentages like so: 2/12 Red, 5/12 Green, and 5/12 Black which equals 17% Red, 42% Green, and 42% Black approximately (I rounded up so yeah it's 101% total, wanna to fight about it?). Basically if your bid lasts 17% of the waiting time you will most likely win the item. Therefore it is completely worth the risk of two hours "being in the red."
Hopefully this chart and article will help you understand when your bids will be the most successful.