Use this guide to farm thorium ore without having to run around mindlessly searching for respawns. Look for half an hour in these three locations and find atleast 8-12 nodes. Eventhough this is a level 60 item, death knights and other characters leveling blacksmithing, jewelcrafting, and/or engineering would prefer to buy this item rather than farm it.

Mid level profession items, the ones that get you levels 220-300 in any profession are often very hard to come by. Thorium, for instance, is one of the worst profession material sinks in the game because of how many are required for jewelcrafting, blacksmithing, and engineering. A blacksmith will go through 500+ of these easily on his way to skill level 300 and that's a market you don't want to pass up.

Here's my guide for farming Thorium ore:
Step 1: Park a miner in Everlook, Winterspring.
Step 2: ??
Step 3: Profit.

JUST KIDDING.

Park a miner (level 69+) in Everlook, Winterspring.

Make Everlook your home.
Head east to the Yeti cave; there are a handful of nodes that spawn there.
After the cave is cleared, head south to the Owl Wing Thicket and look for nodes in the owl caves (you don't have to go inside any caves for the nodes to be visible on the map).
Head south to Darkwhisper Gorge.
As you enter the Gorge you will pass two demons and there will be a little hill on your right (west). Go up the hill and enter the cave to purchase Gromsblood for super cheap off the demon there. He sells some rare cloth as well but it doesn't sell anywhere near as well as the Gromsblood.
Go through each cave in Darkwhisper Gorge and into the clearings to search for thorium nodes. You will find no more then two nodes in any one clearing, and in some of the smaller ones never more then one at a time.
Log off your alt. Every 30+ minutes come back onto your alt and check all the clearings for nodes again.
When your bags are full hearth to Everlook where you will have access to a bank, guild bank, and mail box which will make transporting/storing the ore much easier.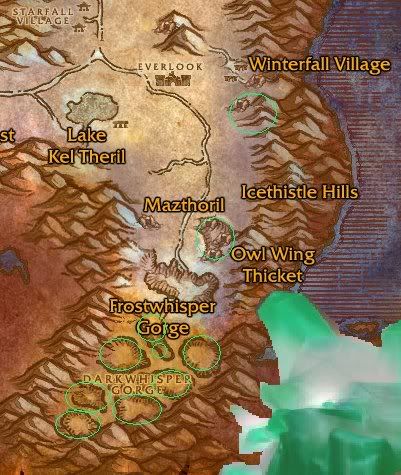 Thorium bars
go for as much as 65 gold a stack and usually the ore form is more expensive because jewelcrafting needs
thorium ore
in stacks of 5 for prospecting. Also, any other profession can buy ore to be smelted into bars. Even though this is usually true you should still check for deals by bidding or buying out ore then smelting it into bars to be resold. The bar to ore ratio is 1:1. You should also pick up quite a few gems while farming the thorium, which will sell for over 10 gold each depending on your AH.
The beauty of this strategy is that you don't have to farm for hours on end, but rather, you can farm once or twice a day and continue playing your other characters as usual. Have a raid and need to kill twenty minutes? Just log onto your mining alt and farm this location while you wait.