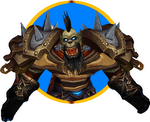 I was recently surfing the web for wow gold blogs when I came across a brand spanking new blog that looks pretty promising.
The site is the internet journal of an aspiring wow player who is trying to make as much gold as possible while leveling and still maintain a decent days /played. He's not trying to break any records (there are none in this category) but he was curious enough to make a character alone on a new server and try his luck.
To help him out, I gave him a free copy of Markco's Gold Guide (still in the editing process but I gave him the most recent draft) and I'm hoping that he'll show everyone just how powerful this guide will be.
Have you tried making gold while leveling or did you give up from frustration?
Check out rush's site:
Warcraft Gold Rush
.
Tell him what you think about his 'quest.'